Access
The campus of the College of International Relations (hereafter C.I.R.) is located in Mishima City, Shizuoka Prefecture; the city is close to Hakone and Atami, both of which have famous hot springs, and it is also close to Mt. Fuji. It is less than one hour from Tokyo Central Station by Shinkansen (Bullet Train).
Geographical Advantages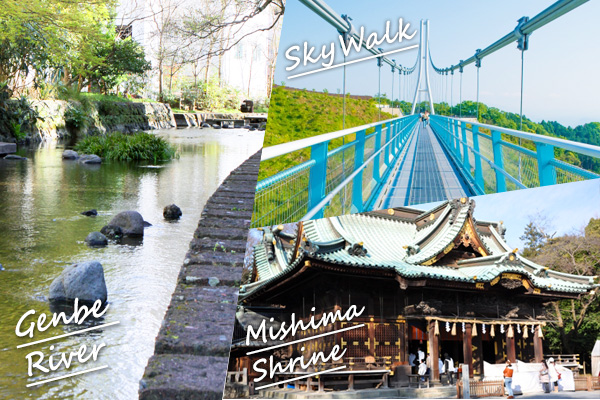 The campus of C.I.R. is located in Mishima City, Shizuoka Prefecture. The area has a lot to offer. At the base of the Izu Peninsula, close to the Fuji-Hakone National Park, Mishima is a gateway to the beautiful countryside of the Izu-Hakone area and its many hot spring resorts in Hakone, Atami, etc. The world-famous Mt. Fuji itself, its melting snows feeding the city's own springs, is in clear sight to the north. The city is the home of Mishima Taisha, an important and popular shrine; and in earlier times it was one of the way stations for travelers on the ancient Tokaido Road from Edo to Kyoto. Today though, with its Shinkansen link, it is less than an hour from Tokyo. Local trains and buses are also available to go to Tokyo.
Industries of Shizuoka Prefecture
There are varied industries in addition to tourism in the area and in the prefecture to learn about, such as factories (of world-famous auto makers, motorcycle makers, musical instruments, and paper, to name just a few), the fishing industry (Yaizu Port is the fishery port that has the second largest volume of landings), and farms growing crops such as Japanese oranges and green tea.